Shelving Structures

---

RiveTier - No Nuts or Bolts!
The original boltless system
No hardware
Unobstructed spans
Cost effective
Affordable assembly
Adjustable shelves
Range of capacities
Shelf options
Simple construction
Free standing
15ft height with no splicing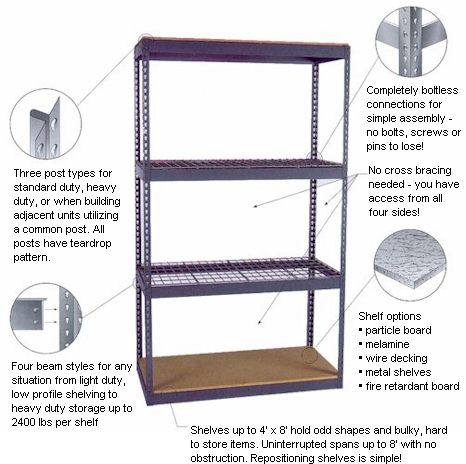 ---

Western Pacific Storage - Compression Clip Shelving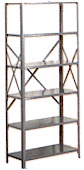 Open Shelving provides the most basic all-purpose storage.
Compression clip for bolt-free assembly
Open design for easy stocking and retrieval
Sway braces on rear and sides provide stability
Ideal for bulky or packaged items
Shelves adjustable in 1 1/2" increments
Seismic applications may require additional structural bracing
Ideal for high rise or mobile storage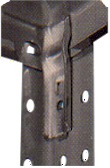 Compression Clip makes changing shelf position quick and easy.
Quickly install your shelving system and easily rearrange shelf locations. Clip shelving, also known as compression clip shelving, utilizes compression clips rather than nuts and bolts to attach shelves to upright posts. Many brands of clip shelving also allow you to nut and bolt shelves for added support.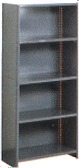 Closed Shelving includes metal back and side enclosing panels added to the basic open unit.
Ideal for applications in which containment and storage continuity are the key
Rigid and durable storage structures
Enclosed units provide added cleanliness for stored items
Ideal for front office use, closed units can be customized with your own end panel surfaces to match your decor
Please Contact One of Our Specialist to Better Serve You on Your Project